10GBase-T SFP+ RJ45 Transceiver Compatibility Matrix
Optech's 10GBase-T SFP+ RJ45 Transceiver offers 10 gigabit ethernet communication and supports links up to 30m using Cat 6a/7 with a RJ45 connector.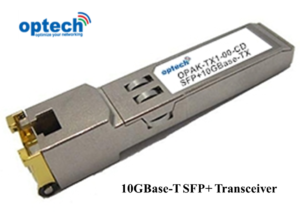 10GBase-T SFP+ RJ45 Copper Transceiver Characteristics
Supports links up to 30m using Category 6A/7 cabling
RJ45 connector
Low power consumption (2.5 W @ 30m).
Compatible brands: Cisco, Juniper, Intel, Dell, Extreme, Alcatel, Brocade, and others
Complete datasheet available here.
Why buy Optech's 10GBase-t SFP+ RJ45 Transceiver ?
Competitive Price
100% Compatible Guarantee
Customized label with your own brands
Tested before shipping on corresponding equipment
Pre-Sales Service: fast reply, advise, fast delivery
After-Sales Service: warranty, replacement, technical support
In stock, fast delivery
10GBase-T SFP+ RJ45 Transceiver Compatibility Matrix
Switch/NIC Brand
Switch/NIC
Model Number
Switch
Extreme
Summit 650
Alcatel Lucent
7360
Brocade
ICX 6450/ICX 6650
Cisco
4500/3750/3064/5020/2960/ASR9001/93180
HP Procurve
2910al
HP Blade System
G8000
HP
5920/5940
H3C
S5500/S6820
Juniper
EX-4500/QFX5100/QFX5200
Intel
X520-SR2/X520-DA1
Arista
7050S/7160
Huawei
S6700/S6720/CE6810
NetGear
M5300
Calix
Calix E7
Force10
S4810P
Avaya
VSP-8284XSQ
Ciena
3930
Dell
S9100
NIC
Broadcom
57810/57810S
Chelsio
CC2-S320E-SR/CC2-N320E-SR
HP
NC552SFP
HOTLAVA
2ST2830A1
Mellanox
6801-M
Compatibility Matrix Available :
Alcatel, AlliedTelesis, Arista, Avaya, Brocade, Check Point, Cisco, Dell, DLink, Edgecore, Extreme, Fortinet, F5 Networks, HP, HP Blade,  HPE, Huawei, Intel, Juniper, Linksys, Moxa and Radware.
Optech Technology Co. Ltd was founded in 2001 in Taipei, Taiwan. The company was created with a sole purpose, to provide a wide and high quality portfolio of optical products to a very demanding and fast evolving market.
To respond to the permanent increase of IP traffic, Optech portfolio is constantly growing. Since the beginning, the company has always been up to date with the latest innovations on the market. Today, we are proud to deliver a large selection of 25G SFP28, 40G QSFP+, 100G QSFP28, 200G QSFP56 and 400G QSFP-DD optical transceivers and cables.
Optech has a large portfolio of products which include optical transceivers, direct attach cables, active optical cables, loopback transceivers, media converters and fiber patch cords.
Through its large selection of optical products, that have a range of data speed from 155 Mbps to 400 Gbps and reach distances up to 120km, Optech products are suitable for various industries such as telecom, data centers as well as public and private networks.
For more information you can visit www.optech.com.tw or contact us at sales@optech.com.tw.