Introduction to Active Optical Cable (AOC)
Active Optical Cable is a category of interconnect used in telecommunication networks and data centers such as Direct Attach Cable (DAC) and Optical Transceiver.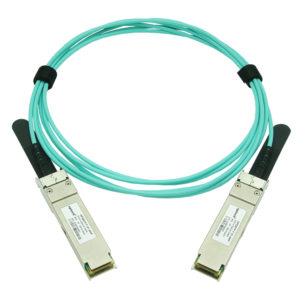 What is an Active Optical Cable ?
An AOC is two transceivers attached together by a fiber cable, creating a one part assembly. Like, DAC, Active Optical Cable can not be separated. However, AOC do not use copper cables but fiber cables allowing them to reach longer distances.
Active Optical Cables can reach distances from 3 meters up to 100 meters, but they are commonly used for distance up to 30 meters. The AOC technology has been developed for several data rate from 10G SFP+ to 100G QSFP28.
AOC also exist as breakout cables, where one side on the assembly is divided in four cables, each terminated by a transceiver of a smaller data rate, allowing to connect a larger number of ports and devices. (See below photo for example)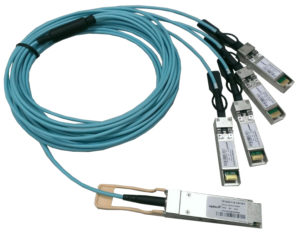 What are the advantages of AOC ?
Compare to Direct Attach Cable
Active Optical Cable can reach longer distance than DAC, up to 100 meters depending on the data rate and the type of fiber cable used. They are lighter and smaller than DAC, but they are more expensive, which is one of their main drawback. Unlike DAC, AOCs are immune to EMI (electromagnetic interference).
Compare to  using transceivers and separated cables
Active Optical Cables are comparable to using transceivers and separated cables in terms of performance. One of the advantages of AOC compared to using optical transceivers is that there is less maintenance work. Indeed, there is no need of assembling and cleaning the connectors. AOC is a cheaper interconnect solution and also decreases the operating costs by consuming less power.
How the Active Optical Cables are used?
Active Optical Cables are mostly used to connect switches, servers and storage between different racks inside a data center for example. AOCs are also used to link devices inside a same rack, but usually for distance below 3 meters, the use of DAC is preferred.
Active Optical Cable Products
10G SFP+ AOC
10G SFP+ to SFP+ AOC

OPSFPP-F-xx-AK

xx= 3 to 100 meters
40G QSFP+ AOC
40G QSFP+ to QSFP+ AOC

OPQSFP-F-xx-AKA

xx= 3 to 100 meters
40G QSFP+ to 4 SFP+ AOC

OPQSFP-F-xx-A/SFPP/4

xx= 3 to 100 meters
25G SFP28 AOC
SFP28 to SFP28 AOC

OPSF28-F-03-AKT

xx= 3 to 100 meters

100G QSFP28

AOC

100G QSFP28 to QSFP28 AOC

100G QSFP28 to 4 SFP28 AOC

OPQS28-F-XX-AK

OPQS28-F-01-A/SF28/4

xx= 3 to 100 meters

xx= 3 to 100 meters

400G QSFP-DD AOC
400G QSFP-DD to 400G QSFP-DD AOC

OPQSDD-F-03-AKT

xx= 3 to 100 meters
For AOC products, the length and type of fiber cable (single mode, multimode, OM3, OM4,..) can be customized upon request.
For information, Optech products are compatible with major switches and servers brands on the market. You can check all the compatible lists here.
Optech Technology Co. Ltd was founded in 2001 in Taipei, Taiwan. The company was created with a sole purpose, to provide a wide and high quality portfolio of optical products to a very demanding and fast evolving market.
To respond to the permanent increase of IP traffic, Optech portfolio is constantly growing. Since the beginning, the company has always been up to date with the latest innovations on the market. Today, we are proud to deliver a large selection of 25G SFP28, 40G QSFP+, 100G QSFP28 and 400G QSFP-DD optical transceivers and cables.
Optech has a large portfolio of products which include optical transceivers, direct attach cables, active optical cables, loopback transceivers, media converters and fiber patch cords.
Through its large selection of optical products, that have a range of data speed from 155 Mbps to 400 Gbps and reach distances up to 120km, Optech products are suitable for various industries such as telecom, data centers as well as public and private networks.