Introduction to Direct Attach Cable (DAC)
Direct Attach Cable is a category of interconnect used in telecommunication networks and data centers such as Active Optical Cable (AOC) and Optical Transceiver.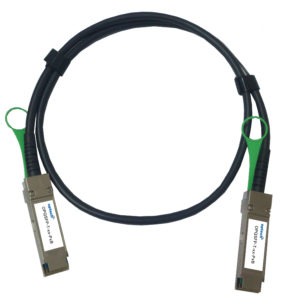 40G QSFP+ to 40G QSFP+ Direct Attach Cable
What is a Direct Attach Cable ?
A DAC is two transceivers attached together by a copper cable, creating a one part assembly. Like, AOC, Direct Attach Cable can not be separated.
Direct Attach Cables can reach distances from 0.5 meters up to 10 meters, but they are commonly used for distance under 5 meters. The DAC technology has been developed for several data rate from 10G SFP+ to 100G QSFP28. More recently, several companies have been working on the development of the 400G QSFP-DD Direct Attach Cable.
DAC also exist as breakout cables, where one side on the assembly is divided in four cables, each terminated by a transceiver of a smaller data rate, allowing to connect a larger number of ports and devices. (See below photo for example)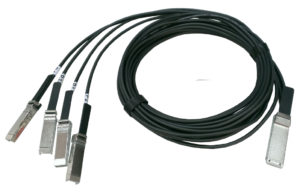 100G QSFP28 to 4 x 25G SFP28 Direct Attach Cable
The difference between Passive DAC and Active DAC
There are two types of DAC, the passive copper cable that can reach distances from 0.5 to 5 meters and active copper cable that can reach distances up 10 meters. Passive DACs have no electrical components and thus consume no power. However active DAC contain electrical components to boost the signal, allowing to ensure its quality through longer distance. Of course, the addition of the electrical components make the active DAC slightly more expansive.
What are the advantages of DAC ?
Compare to Active Optical Cable
Direct Attached Cables are a very common method used for very short-range distances because of the their low-cost. Indeed, they are the cheapest solution to connect network equipment, because of the hardware price and they low power consumption. However, unlike AOCs, DACs are heavier and vulnerable to the effects of electromagnetic interference (EMI).
Compare to using transceivers and separated cables
Direct Attach Cables are more suitable for short distance connection because they are considerably cheaper than using transceivers and separated cables. In addition, there is less maintenance work because there is no need of assembling and cleaning the connectors.
How the Direct Attach Cables are used?
Direct Attach Cables are the perfect cost effective solution to connect devices seperated by small distances. DAC are mostly used to connect switches, servers and storage inside the same rack or an adjacent rack of a data center for example. For distance above 5 meters it is recommended to use Active DAC to keep the strength and quality of the signal. For distance above 10 meters, the use of Active Optical Cables is preferred.
Direct Attach Cables Products
For DAC products, the length and the gauge size can be customized upon request.
Optech is a leading company in developing and manufacturing Optical Transceivers and Cables solutions for Data Center and Telecom market. Since 2001, Optech has been offering accurate lead time and high quality products to customers.
Optech offers a broad range of networking and communication solutions in following categories: Optical Transceivers, SFP, 10G SFP+, 25G SFP28, 40G QSFP+, 100G QSFP28, 400G QSFP-DD, Direct Attach Cables (DAC), Active Optical Cables (AOC), Ethernet Media Converter, Fiber Optical Patchcord, BWDM, CWDM, DWDM Mux/Demux and Repeater products.
For more information you can visit www.optech.com.tw or contact us at sales@optech.com.tw.
http://sintrontech.com/wp-content/uploads/2017/04/optech-logo.png
0
0
Optech
http://sintrontech.com/wp-content/uploads/2017/04/optech-logo.png
Optech
2018-11-22 20:29:37
2020-03-23 13:06:02
What is a Direct Attach Cable (DAC) ?