Optech Chinese New Year 2019 Holidays
We would like to wish all of our wonderful partners, customers and friends a Happy Chinese New Year and all the best for the year of the pig.
Optech Team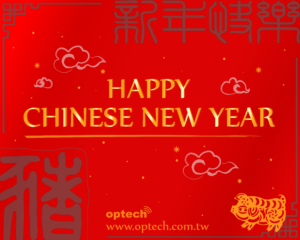 SAVE THE DATE
February 1st to February 11th, 2019 included
Our office will be closed
January 30th to February 17th, 2019 included
Our factory will be closed
Please keep in mind to order enough stock to cover trough the beginning of March. Once our factory reopens on February 18th, production lines will be full and leads times will not be as quick as usual.
Thank you for your understanding
Discover our latest innovations

About Optech
Optech is a leading company in developing and manufacturing Optical Transceivers and Cables solutions for Data Center and Telecom market. Since 2001, Optech has been offering accurate lead time and high quality products to customers.
Optech offers a broad range of networking and communication solutions in following categories: Optical Transceivers, SFP, 10G SFP+, 25G SFP28, 40G QSFP+, 100G QSFP28 , 400G QSFP-DD, Direct Attach Cables (DAC), Active Optical Cables (AOC), Ethernet Media Converter, Fiber Optical Patchcord, BWDM, CWDM, DWDM Mux/Demux and Repeater products.
For more information you can visit www.optech.com.tw or contact us at sales@optech.com.tw.