10G Transceivers: What is the difference between SFP+, XFP, X2 and XENPAK?
If you are confused with all the different letters for the 10G transceivers family, this article is for you! Here we are going to explain the main differences between the four types of 10G transceivers which differ from the time they were introduced into the market, the size and the type of connector.
XENPAK: It is the first 10G transceiver to be introduced to the market. The XENPAK is characterized by its large size and SC connectors.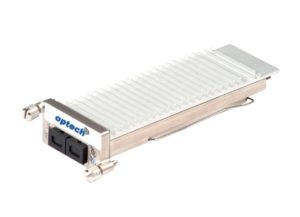 X2 : It is the successor of the XENPAK.  Brought to the table a reduced size but still using SC connectors.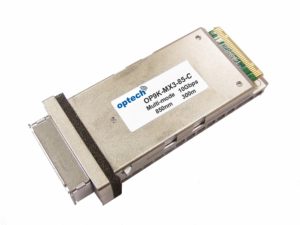 XFP : The arrival of 10G XFP transceivers brought a big change compared to the previous XENPAK and X2 by considerably reducing the size of the transceivers and changing the connector type to LC connectors.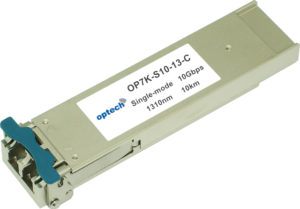 SFP+ : The 10G SFP+ transceiver, the newest 10G transceiver, is an enhanced version of the SFP. It has the smallest size of all the 10G transceivers introduced above. The SFP+ is also using LC connectors like the XFP.
Even if the 10G SFP+ is the most used now, due to its compact size, the Xenpak, X2, and XFP are still used and available on the market. They can all be interconnected if the right optics and connectors are used.
The latest innovation in the 10G transceivers family is the 10G SFP+ Copper which offer many advantages. The 10GBase-T SFP+ transceiver offers 10 gigabit Ethernet communication and supports links up to 30m using Cat 6a/7 with a RJ45 connector.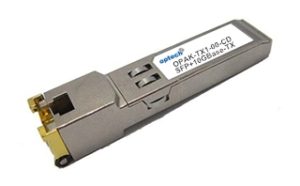 You can read more about the 10GBase-T SFP+ and see all the switch brands compatible with Optech's 10GBase-T SFP+ Transceivers here.
About Optech
Optech Technology Co. Ltd was founded in 2001 in Taipei, Taiwan. The company was created with a sole purpose, to provide a wide and high quality portfolio of optical products to a very demanding and fast evolving market.
To respond to the permanent increase of IP traffic, Optech portfolio is constantly growing. Since the beginning, the company has always been up to date with the latest innovations on the market. Today, we are proud to deliver a large selection of 25G SFP28, 40G QSFP+, 100G QSFP28 and 400G QSFP-DD optical transceivers and cables.
Optech has a large portfolio of products which include optical transceivers, direct attach cables, active optical cables, loopback transceivers, media converters and fiber patch cords.
Through its large selection of optical products, that have a range of data speed from 155 Mbps to 400 Gbps and reach distances up to 120km, Optech products are suitable for various industries such as telecom, data centers as well as public and private networks.
Others Complete Guide
Complete Guide to 25G SFP28 Optical Transceivers and Cables
Complete Guide to 40G QSFP+ Optical Transceivers and Cables
Complete Guide to 100G QSFP28 Optical Transceivers and Cables