Third Party Optical Transceivers Testing is the key to ensure the compliance and the performance of all transceivers. That is why, at Optech, all our products are carefully checked in our testing area before they are packed and shipped.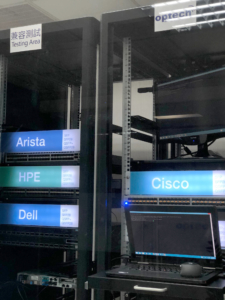 To better understand all of this, let's define what are Third Party Optical Transceivers, and the difference with OEM (Original Equipment Manufacturer) Optics.
What are Third Party Optical Transceivers?
OEM Optics refers to optics supplied and branded by the OEM, such as Juniper transceivers for Juniper switches.
Third Party Optical Transceivers are optical transceivers supplied by a Third Party Vendor that have the same specifications as the OEM optics. For example, Optech transceivers compatible with Juniper switches are Third Party Optical Transceivers.
To know more about Third Party Optical Transceivers: What are Third Party Optical Transceivers and why you should buy it ?
Third Party Optical Transceivers Testing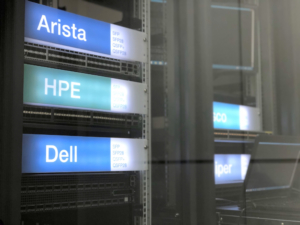 The first part of the Optical Transceivers Testing is to ensure that the optical transceiver is compatible with the switch brand requested by the customer. Indeed, Optech offers transceivers compatible with several switch brands (see below) and to guarantee its high quality service, Optech tests all optical transceivers on the original brand switch before shipping.
After making sure of the compatibility, there are several parameters to test to ensure the performance of the transceiver. An optical transceiver is an assembly of two parts, the transmitter and the receiver. The transmitter testing consists in controlling the quality of the input and output signal of the transmitter by measuring the amount of jitter and realizing an eye mask test. The receiver testing consists in sending a poor quality signal. Then, the level of jitter and optical power will be checked in order to see if the desired BER (Bit-Error Ratio) target is reached.
Optech Compatible Brands
Optech Third Party Optical Transceivers are 100% compatible with all major switch brands.

Compatibility Matrix Available :
Alcatel, Allied, Arista, Avaya, Brocade, Cisco, Dell, DLink, Edgecore, Extreme, Fortinet, HP, HPE, HP Blade, Huawei, Intel, Juniper, Linksys, Moxa.

If you don't find the brand or the part number that you are looking for in the below list, please contact us.
About Optech
Optech is a leading company in developing and manufacturing Optical Transceivers and Cables solutions for Data Center and Telecom market. Since 2001, Optech has been offering accurate lead time and high quality products to customers.
Optech offers a broad range of networking and communication solutions in following categories: Optical Transceivers, SFP, 10G SFP+, 25G SFP28, 40G QSFP+, 100G QSFP28 , 400G QSFP-DD, Direct Attach Cables (DAC), Active Optical Cables (AOC), Ethernet Media Converter, Fiber Optical Patchcord, BWDM, CWDM, DWDM Mux/Demux and Repeater products.
For more information you can visit www.optech.com.tw or contact us.
http://sintrontech.com/wp-content/uploads/2017/04/optech-logo.png
0
0
Optech
http://sintrontech.com/wp-content/uploads/2017/04/optech-logo.png
Optech
2019-10-16 17:05:57
2019-10-17 20:26:03
Third Party Optical Transceivers Testing