40G QSFP+ Bidi (BiDirectional) Optical Transceiver
Optech is proud to announce that the 40G QSFP+ BiDi Optical Transceiver is now availabale !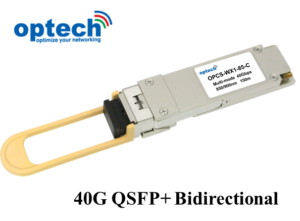 It is a cost effective and high quality solutions to upgrade an existing 10G network to a 40G network.
For more information or to order the 40G QSFP+ Bidi, contact us at sales@optech.com.tw.
Features of the 40G QSFP+ BiDi
The 40GBase QSFP+ Bidi has two 20G channels that supports connections up to 100 meters on OM3 and up to 150 meters on OM4. It uses LC Duplex connector and the wavelength is 850nm. It is compliant with the QSFP MSA.
Supports 40G data rate
2 channels 850nm VCSEL transmitter
Reach distance up to 100 meters with OM3
Reach distance up to 150 meters with OM4
LC Duplex Connector
Temparature range: 0 to 70°C
Difference between the 40G QSFP+ BiDi and the 40G QSFP+ SR
Both, the 40G QSFP+ BiDi and the 40G QSFP+ SR reach distances up to 150 meters over multi-mode fiber. The difference is that the QSFP+ BiDi uses LC connector and the QSFP+ SR uses MPO connector. Knowing that all the 10G transceivers use LC connector, it can make a difference when deciding to upgrade a network from 10G to 40G. Indeed, the LC connector of the 40G QSFP+ BiDi allows to reuse the existing cables of a 10G network.
Brand Compatibility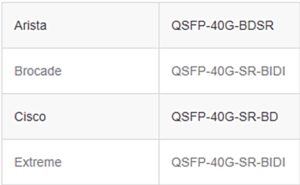 Check all our compatibility matrix here.
Other Bidi Transceivers
25G SFP28 Bidi Optical Transceiver
100G QSFP28 Bidi CWDM4 Optech Transceiver
About Optech
Optech is a leading company in developing and manufacturing Optical Transceivers and Cables solutions for Data Center and Telecom market. Since 2001, Optech has been offering accurate lead time and high quality products to customers.
Optech offers a broad range of networking and communication solutions in following categories: Optical Transceivers, SFP, 10G SFP+, 25G SFP28, 40G QSFP+, 100G QSFP28 , 400G QSFP-DD, Direct Attach Cables (DAC), Active Optical Cables (AOC), Ethernet Media Converter, Fiber Optical Patchcord, BWDM, CWDM, DWDM Mux/Demux and Repeater products.
For more information you can visit www.optech.com.tw or contact us at sales@optech.com.tw.
http://sintrontech.com/wp-content/uploads/2018/12/40G-bidi-small.png
315
456
Optech
http://sintrontech.com/wp-content/uploads/2017/04/optech-logo.png
Optech
2018-12-13 21:10:03
2020-03-23 13:06:02
40G QSFP+ Bidi Optical Transceiver