Optech is proud to announce that the 400G QSFP-DD Loopback is now availabale !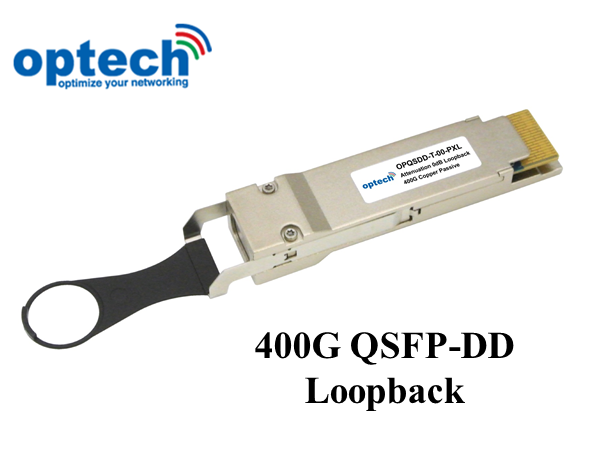 It is a cost effective and high quality solutions to test 400G QSFP-DD transceivers ports.
For more information or to order the 400G QSFP-DD Loopback, contact us at sales@optech.com.tw.
The best solution for testing switches and servers ports is the passive electrical loopback transceiver. The loopback transceiver works by simulating the communication between two devices by transmitting the data (output) and receiving it (input).
More Loopback Products
Optech's Loopback Transceivers serie also includes the 10G SFP+ Loopback, 40G QSFP+ Loopback, 25G SFP28 Loopback and 100G QSFP28 Loopback.
More 400G QSFP-DD Products
Optech aslo has different 400G QSFP-DD products such as the
400G QSDP-DD SR8 Optical Transceiver. 
400G QSFP-DD DR4 Optical Transceiver
400G QSFP-DD LR4 Optical Transceiver
If you want to know more about the difference between the 400G OSFP Transceiver and the 400G QSFP-DD Transceiver click here.
About Optech
Optech is a leading company in developing and manufacturing Optical Transceivers and Cables solutions for Data Center and Telecom market. Since 2001, Optech has been offering accurate lead time and high quality products to customers.
Optech offers a broad range of networking and communication solutions in following categories: Optical Transceivers, SFP, 10G SFP+, 25G SFP28, 40G QSFP+, 100G QSFP28 , 400G QSFP-DD, Direct Attach Cables (DAC), Active Optical Cables (AOC), Ethernet Media Converter, Fiber Optical Patchcord, BWDM, CWDM, DWDM Mux/Demux and Repeater products.
For more information you can visit www.optech.com.tw or contact us at sales@optech.com.tw.
http://sintrontech.com/wp-content/uploads/2019/03/400G-loopback-e1551874608407.png
298
400
Optech
http://sintrontech.com/wp-content/uploads/2017/04/optech-logo.png
Optech
2019-03-06 20:17:29
2019-06-12 19:44:33
400G QSFP-DD Loopback Transceiver !