Optech is proud to announce that the 100G QSFP28 Bidi CWDM4 Optical Transceiver is now availabale !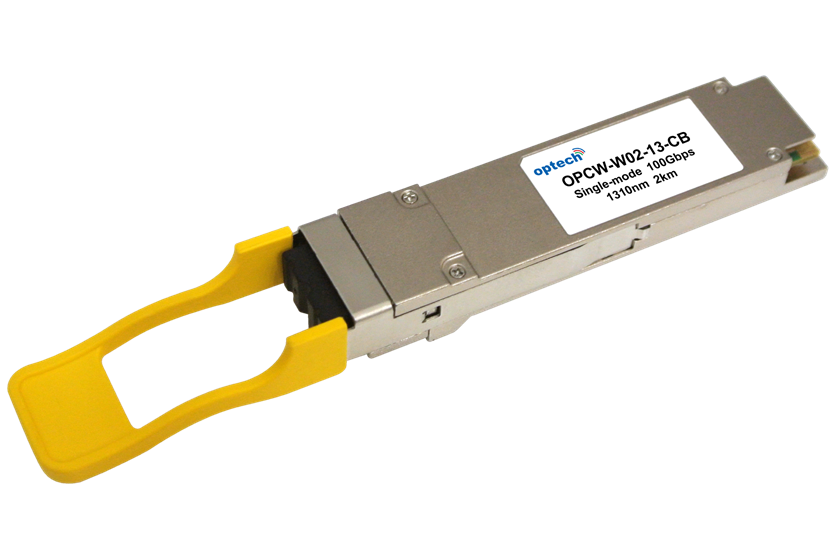 It is a cost effective and high quality solutions to upgrade to a 100G network.
For more information or to order the 100G QSFP28 Bidi, contact us at sales@optech.com.tw.
Features of the 100G QSFP28 Bidi
The 100G QSFP28 Bidi CWDM4 transceiver supports connections up to 2km over single-mode fiber and uses LC connectors. The wavelengths are 1271 nm, 1291 nm, 1311 nm and 1331 nm.
BIDI Transceivers or BWDM Transceivers (Bi-directional Wavelength Division Multiplexing) interface carries two distinct channels in different directions on a single strand of fiber. They must always be used in complementary pairs. BIDI Transceivers are a cost effective solution by doubling the capacity of an existing fiber infrastructure.
Up to 103.1Gb/s data links
4 CWDM lanes MUX/DEMUX design
Bidirectional optical data transmission/receiving
Up to 2km transmission on single mode fiber (SMF) with FEC
1271 nm, 1291 nm, 1311 nm and 1331 nm.
LC Connectors
Single 3.3V power supply
Maximum power consumption 3.5W
Operating case temperature: 0 to 70°C
Compliant with 100G QSFP28 MSA
RoHS compliant
Complete datasheet available here.
Application of the 100G QSFP28 Bidi
100GE Ethernet
Data Center
High-speed storage area networks
Custom high-speed data pipes
Other Bidi Transceivers
25G SFP28 Bidi Optical Transceiver
40G QSFP+ Bidi Optical Transceiver
About Optech
Optech is a leading company in developing and manufacturing Optical Transceivers and Cables solutions for Data Center and Telecom market. Since 2001, Optech has been offering accurate lead time and high quality products to customers.
Optech offers a broad range of networking and communication solutions in following categories: Optical Transceivers, SFP, 10G SFP+, 25G SFP28, 40G QSFP+, 100G QSFP28 , 400G QSFP-DD, Direct Attach Cables (DAC), Active Optical Cables (AOC), Ethernet Media Converter, Fiber Optical Patchcord, BWDM, CWDM, DWDM Mux/Demux and Repeater products.
For more information you can visit www.optech.com.tw or contact us at sales@optech.com.tw.
http://sintrontech.com/wp-content/uploads/2019/06/100G-Bidi-1.png
291
380
Optech
http://sintrontech.com/wp-content/uploads/2017/04/optech-logo.png
Optech
2019-06-19 19:55:31
2019-07-03 16:06:17
100G QSFP28 Bidi CWDM4 Optical Transceiver